Need to Open VCE Files?
Meet VCE Exam Simulators from Avanset!
VCE Exam Simulator BASIC
Software that opens VCE files take interactive exams on your computer & benefit from advanced features.
VCE Exam Simulator PRO
Make your own VCE files and edit VCEs whenever you wish
Get Started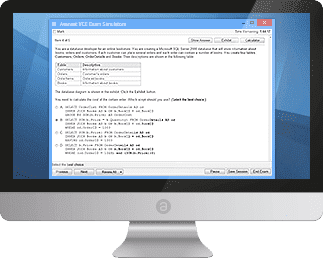 VCE Exam Simulation
for Mac
Take realistic interactive exams in your Mac. 100% exam simulation guaranteed.
Learn more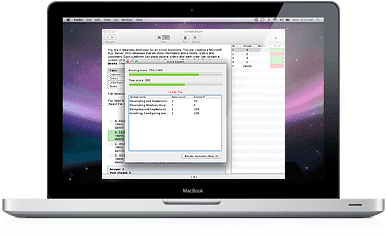 VCE Exam Simulation
for Mobile
Play VCE exams on your mobile device just as easily as you do on your desktop
Learn more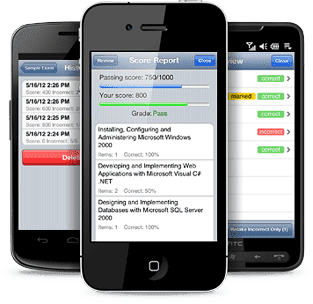 VCE Exam Simulator
Desktop solution for interactive exam preparation

VCE Player for Mac
VCE Exam Simulator BASIC equivalent for Mac OS

VCE Mobile
VCE software compatible with Android and iOS operating systems.
VCE Exams: Learning Made Easier With VCE
You have probably heard about VCE files - but what are they exactly? And are they worth the hype?...
The acronym of VCE means Visual Certification Exam - and this is exactly what they are about. VCE files are interactive exams that provide the experience & the look and feel of various standardized computer-based exams, similarly to IT certification exams.
VCE Test Engine
VCE files can be created, edited and opened with VCE software, developed, updated and sold exclusively by Avanset. VCE Test Engine provides users with a smooth experience of an interactive exam. Combined with the variety of VCE practice exams available online, VCE Test Engine becomes an incredibly useful and efficient learning tool.
VCE Technology works on 2 levels:
Helps users memorize information and concepts (data put in the interactive question-answer format is easier to remember).
Provides users with exact questions and approaches they will be faced during their standardized exam, as well as interactive testing experience, which equals a reliable sneak preview of an exam and leads to exam success.
With a variety of advanced features, VCE software and VCE certification exam files help users improve their exam scores, enhance their resumes and boost their careers. As VCE test engine supports images and over 10 question types, it can be used for any exam preparation, in any field or industry. VCE exams can also be used for learning foreign languages or other subjects, even if there's no upcoming exam in sight.
Learn How VCE Test Engine and Files Can Be Used
VCE Downloads & Free Demos Can be Found Here
Browse This Website For More Info on VCE Test Engine
Free VCE Files
| Name | Exam | Posted |
| --- | --- | --- |
| HP.HPE6-A82.Pass4sure.v2023-07-08.28q.vce | HPE6-A82 | Jul 08, 2023 |
| Microsoft.AI-900.Test-inside.v2023-07-05.61q.vce | AI-900 | Jul 05, 2023 |
| HP.HPE6-A72.Exam-labs.v2023-06-12.51q.vce | HPE6-A72 | Jun 12, 2023 |
| Dell.DES-6322.Real-exams.v2023-05-29.25q.vce | DES-6322 | May 29, 2023 |
| SAP.P-C4HCD-1905.Examsnap.v2023-05-25.36q.vce | P_C4HCD_1905 | May 25, 2023 |
| Salesforce.Certified-Platform-App-Builder.Selftesttraining.v2023-05-11.257q.vce | Certified Platform App Builder | May 11, 2023 |
| IBM.C1000-018.Braindumps.v2023-05-10.26q.vce | C1000-018 | May 10, 2023 |
| Amazon.AWS-Certified-Data-Analytics-Specialty.Test-inside.v2023-03-22.68q.vce | AWS Certified Data Analytics - Specialty | Mar 22, 2023 |
| Citrix.1Y0-312.Passguide.v2023-03-20.67q.vce | 1Y0-312 | Mar 20, 2023 |
| Microsoft.PL-100.Certbolt.v2023-03-19.78q.vce | PL-100 | Mar 19, 2023 |
| Dell.DES-4421.Testking.v2023-01-12.28q.vce | DES-4421 | Jan 12, 2023 |
| Python Institute.PCAP.Passcertification.v2023-01-12.43q.vce | PCAP | Jan 12, 2023 |
| Google.Professional-Cloud-DevOps-Engineer.Real-exams.v2023-01-12.28q.vce | Professional Cloud DevOps Engineer | Jan 12, 2023 |
| CompTIA.220-1001.Certkey.v2023-01-11.267q.vce | 220-1001 | Jan 11, 2023 |
| Juniper.JN0-211.Prep4sure.v2023-01-11.28q.vce | JN0-211 | Jan 11, 2023 |
| Juniper.JN0-412.Actualtests.v2023-01-11.34q.vce | JN0-412 | Jan 11, 2023 |
| Network Appliance.NS0-003.Passcertification.v2023-01-11.24q.vce | NS0-003 | Jan 11, 2023 |
| ECCouncil.312-50v11.Pass4sureexam.v2023-01-10.175q.vce | 312-50v11 | Jan 10, 2023 |
| IIBA.CBAP.Examsnap.v2023-01-10.286q.vce | CBAP | Jan 10, 2023 |
| Microsoft.MB-210.Train4sure.v2023-01-10.104q.vce | MB-210 | Jan 10, 2023 |
| | | |
| --- | --- | --- |
| Microsoft.SC-900.Examscollection.v2023-01-10.28q.vce | SC-900 | Jan 10, 2023 |
| Checkpoint.156-585.Examlabs.v2023-01-09.32q.vce | 156-585 | Jan 09, 2023 |
| Microsoft.AZ-700.Test-king.v2023-01-09.29q.vce | AZ-700 | Jan 09, 2023 |
| IAPP.CIPP-US.Test-king.v2023-01-09.86q.vce | CIPP-US | Jan 09, 2023 |
| Dell.DES-DD33.Pass4sures.v2023-01-09.23q.vce | DES-DD33 | Jan 09, 2023 |
| Microsoft.MS-600.Examlabs.v2023-01-09.47q.vce | MS-600 | Jan 09, 2023 |
| Nokia.4A0-100.Passcertification.v2023-01-08.208q.vce | 4A0-100 | Jan 08, 2023 |
| Microsoft.98-366.Test-king.v2023-01-08.114q.vce | 98-366 | Jan 08, 2023 |
| Microsoft.AZ-104.Certbolt.v2023-01-08.153q.vce | AZ-104 | Jan 08, 2023 |
| Microsoft.AZ-500.Test-king.v2023-01-08.145q.vce | AZ-500 | Jan 08, 2023 |
| Microsoft.AZ-900.Examsnap.v2023-01-08.145q.vce | AZ-900 | Jan 08, 2023 |
| SAP.C-SECAUTH-20.Selftestengine.v2023-01-08.34q.vce | C_SECAUTH_20 | Jan 08, 2023 |
| Microsoft.MB-330.Test-king.v2023-01-08.110q.vce | MB-330 | Jan 08, 2023 |
| Microsoft.MD-101.Passcertification.v2023-01-08.143q.vce | MD-101 | Jan 08, 2023 |
| Microsoft.PL-900.Exam-labs.v2023-01-08.86q.vce | PL-900 | Jan 08, 2023 |
| NetSuite.SuiteFoundation-Certification-Exam.Test4prep.v2023-01-08.27q.vce | SuiteFoundation Certification Exam | Jan 08, 2023 |
| CompTIA.SY0-601.Certkiller.v2023-01-08.106q.vce | SY0-601 | Jan 08, 2023 |
| Mulesoft.MCD-Level-1.Prep4sure.v2023-01-07.59q.vce | MCD - Level 1 | Jan 07, 2023 |
| Microsoft.MS-500.Examlabs.v2023-01-07.110q.vce | MS-500 | Jan 07, 2023 |
| Microsoft.AZ-140.Selftesttraining.v2023-01-06.38q.vce | AZ-140 | Jan 06, 2023 |
| | | |
| --- | --- | --- |
| Juniper.JN0-1302.Examcollection.v2023-01-06.28q.vce | JN0-1302 | Jan 06, 2023 |
| Microsoft.MB-340.Examlabs.v2023-01-06.26q.vce | MB-340 | Jan 06, 2023 |
| Microsoft.MS-203.Certkiller.v2023-01-06.103q.vce | MS-203 | Jan 06, 2023 |
| Microsoft.MS-700.Examlabs.v2023-01-06.84q.vce | MS-700 | Jan 06, 2023 |
| CompTIA.PK0-004.Certkey.v2023-01-06.334q.vce | PK0-004 | Jan 06, 2023 |
| Checkpoint.156-315-80.Pass4sure.v2023-01-05.275q.vce | 156-315.80 | Jan 05, 2023 |
| Google.Associate-Cloud-Engineer.Certkiller.v2023-01-05.106q.vce | Associate Cloud Engineer | Jan 05, 2023 |
| PMI.CAPM.Real-exams.v2023-01-05.688q.vce | CAPM | Jan 05, 2023 |
| SAP.E-HANAAW-17.Pass4sureexam.v2023-01-05.16q.vce | E_HANAAW_17 | Jan 05, 2023 |
| CompTIA.FC0-U61.Selftestengine.v2023-01-05.96q.vce | FC0-U61 | Jan 05, 2023 |
| Fortinet.NSE6-FWF-6-4.Real-exams.v2023-01-05.12q.vce | NSE6_FWF-6.4 | Jan 05, 2023 |
| Microsoft.PL-400.Actualtests.v2023-01-05.76q.vce | PL-400 | Jan 05, 2023 |
| Splunk.SPLK-3001.Braindumps.v2023-01-05.45q.vce | SPLK-3001 | Jan 05, 2023 |
| Salesforce.Certified-Platform-App-Builder.Passcertification.v2023-01-04.246q.vce | Certified Platform App Builder | Jan 04, 2023 |
| PRINCE2.PRINCE2-Agile-Foundation.Passcertification.v2023-01-04.21q.vce | PRINCE2 Agile Foundation | Jan 04, 2023 |
| Microsoft.98-349.Train4sure.v2023-01-03.132q.vce | 98-349 | Jan 03, 2023 |
| ServiceNow.CIS-SAM.Selftesttraining.v2023-01-03.47q.vce | CIS-SAM | Jan 03, 2023 |
| ITIL.ITILFND-V4.Prep4sure.v2023-01-03.144q.vce | ITILFND V4 | Jan 03, 2023 |
| Microsoft.PL-200.Real-exams.v2023-01-03.56q.vce | PL-200 | Jan 03, 2023 |
| CompTIA.N10-008.Braindumps.v2023-01-02.39q.vce | N10-008 | Jan 02, 2023 |
| | | |
| --- | --- | --- |
| Palo Alto Networks.PSE-Strata.Selftesttraining.v2023-01-02.26q.vce | PSE Strata | Jan 02, 2023 |
| Oracle.1z0-1084-21.Passcertification.v2023-01-01.24q.vce | 1z0-1084-21 | Jan 01, 2023 |
| CompTIA.220-1002.Certkey.v2023-01-01.248q.vce | 220-1002 | Jan 01, 2023 |
| Microsoft.MB-300.Braindumps.v2023-01-01.128q.vce | MB-300 | Jan 01, 2023 |
| PMI.PMI-PBA.Certkey.v2023-01-01.104q.vce | PMI-PBA | Jan 01, 2023 |
| Salesforce.Certified-Platform-Developer-II.Actualtests.v2022-12-31.156q.vce | Certified Platform Developer II | Dec 31, 2022 |
| Microsoft.MD-100.Selftestengine.v2022-12-31.145q.vce | MD-100 | Dec 31, 2022 |
| Microsoft.MS-100.Pass4sures.v2022-12-31.176q.vce | MS-100 | Dec 31, 2022 |
| Microsoft.SC-200.Test-inside.v2022-12-31.49q.vce | SC-200 | Dec 31, 2022 |
| Microsoft.SC-300.Certbolt.v2022-12-31.48q.vce | SC-300 | Dec 31, 2022 |
| Microsoft.98-375.Train4sure.v2022-12-30.62q.vce | 98-375 | Dec 30, 2022 |
| Amazon.AWS-Certified-Cloud-Practitioner.Pass4sureexam.v2022-12-30.427q.vce | AWS Certified Cloud Practitioner | Dec 30, 2022 |
| Amazon.AWS-Certified-SysOps-Administrator-Associate.Test-king.v2022-12-30.28q.vce | AWS Certified SysOps Administrator - Associate | Dec 30, 2022 |
| CompTIA.CAS-004.Prep4sure.v2022-12-30.60q.vce | CAS-004 | Dec 30, 2022 |
| CompTIA.CV0-003.Actualtests.v2022-12-30.44q.vce | CV0-003 | Dec 30, 2022 |
| Network Appliance.NS0-175.Pass4sure.v2022-12-30.27q.vce | NS0-175 | Dec 30, 2022 |
| Isaca.CISA.Examscollection.v2022-12-29.1975q.vce | CISA | Dec 29, 2022 |
| Microsoft.MS-900.Test4prep.v2022-12-29.120q.vce | MS-900 | Dec 29, 2022 |
| Fortinet.NSE4-FGT-6-4.Certbolt.v2022-12-29.59q.vce | NSE4_FGT-6.4 | Dec 29, 2022 |
| Microsoft.AZ-204.Examcollection.v2022-12-15.110q.vce | AZ-204 | Dec 15, 2022 |